High Velocity Vent Vacuum Relief Valve
SUPER-ISO
SERIES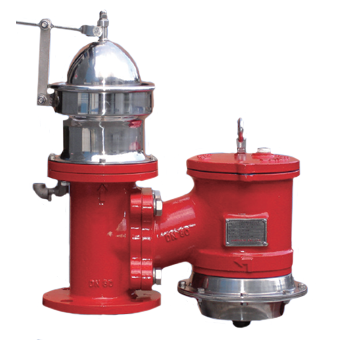 Authorized Requirements
High velocity vent and vacuum relief valve is designed to protect marine vessel systems, including cargo tanks, that may be subject to gas/vapour pressure or vacuum outside the design parameters of the system / tank.
This valve is also designed for devices to prevent the passage of flame into cargo tanks in tankers and to relieve excessive over pressure or under vacuum of cargo tanks during cargo loading, discharging, ballasting and thermal variations.
Applied Basic Rule
Solas Regulation chpterII-2/Reg.11.6
The venting arrangements shall be so designed and operated as to ensure that neither pressure nor vacuum in cargo tanks shall exceed design parameters and be such as to provide for
1. the flow of the small volumes of vapour, air or inert gas mixtures caused by thermal variations in a cargo tank in all case through pressure/vacuum valves and
2. the passage of large volumes of vapour, air or inert gas mixtures during cargo loading and ballasting, or during discharging.
3. a secondary means of allowing full flow relief of vapour, air or inert gas mixtures to prevent overpressure or under-pressure in the event of failure of the arrangements in 1.2.2. Alternatively, pressure sensors may be fitted in each tank protected by the arrangement required in 1.2.2, with a monitoring system in the ship's cargo control room or the position from which cargo operations are normally carried out. Such monitoring equipment shall also provide alarm facility which is activated by detection of over-pressure or under-pressure conditions within a tank.
1.3.3 If cargo loading and ballasting or discharging of a cargo tank or cargo tank group is intended, which is isolated from a common venting system, that cargo tank or cargo group shall be fitted with a means for over-pressure or under-pressure protection as required in paragraph 1.2.3.
Relative Rules and Requirements
IMO MSC/Circ.677
Revised standards for the design, testing and locating of devices to prevent the passage of flame into cargo tankers
IMO MSC/Circ.1009
Amendments to the revised standards for the design, testing and locating of devices to prevent the passage of flame into cargo tanks in tankers
(MSC/Circ.677) International Standard 15364
Ships and marine technology-pressure/vacuum valves for cargo tanks
IMO MSC/Circ.450 Rev.1
IMO MSC / Circ.450 Rev.1
Revised factors to be taken into consideration when designing cargo tank venting and gas-freeing arrangement
IMO MSC/Circ.585
Standard for Vapor Emission Control System
IMO MSC/Circ.731
Revised factors to be taken into consideration when designing cargo tank venting and Gas-freeing arrangement
API 2000 - Flow test procedure
EN 12874 : 2001
Flame arresters-Performance requirements, test methods and limits for use.
IMO MSC / Circ.450 Rev.1
제품수정
Benefits
Protectable MESG 0.65mm chemical gases
Optional gas free cover
Safe-guard case from corrosion
Perfect air cushion damper
Effective outside setting adjustable system
Full stroke check lifting
Clearly visible vacuum disc operation
Complete self-drain & non-accumulation structure inside