Breather valve
Pressure and vacuum relief breather valve is designed to protect low pressure storage tanks from excessive Pressure (or vacuum) created by thermal expansion (and contraction) and product movement into(out of) the tank and at the same time minizing costly product evaporation/loss.

Excesses in pressure or vacuum may also cause permanent deformation to the tank or unbalance a vapor recovery system.

The pressure and vacuum relief breather valve is installed on the storage tank roof. The valve may be mounted in onjunction with a KSFH or KSFI flame arrester to provide maximum protection against excessive pressure and vacuum while minizing accidental ignition of flammable product vapor from external sources.
KSPR
PRESSURE RELIEF VALVE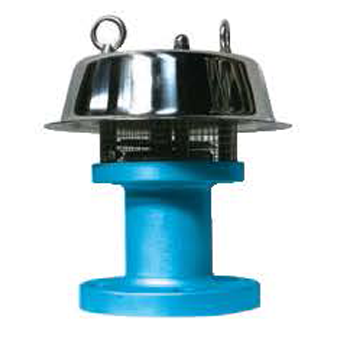 The model KSPR pressure relief valves are an advanced design for vent to atmosphere applications.
Designed manufactured and tested according to the API 2000 code.
Utilize the latest technologies to provide protection against positive or over pressure and prevent air
intake, evaporative losses of product and help to contain odorous and potentially explosive vapours.
INTRODUCTION
The KSPR is a weight pallet model, designed to handle over pressure with a minimum pressure of 20mmW.C and a maximum setting of 700mmW.C
Body materials are available in Aluminium, Carbon Steel, 304SS and 316SS with various trims to suit individual requirements.
Sizes range from 50mm through to 300mm with ANSI 150lb FF flanges as standard. (Different connections available on request).
PRESSURE RELIEF VALVE (WEIGHT TYPE)
PRESSURE RELIEF VALVE (WEIGHT TYPE)
SIZE
2" through 12"
MATERIAL
AL / C.S / S.S
SETTING PRESSURE
25 ~ 700mmW.C